The secret is out!
If you've visited a pre-sale presentation centre over the last two years, you'll have heard this latest developer mantra. So what exactly does it mean?
Well, to understand this phrase a little better, it has to be understood from two angles. Unpacking the first aspect is taking into account that property along the 'waterfront' has always been most desirable. It doesn't take much qualification for anyone to recognize the appeal of natural beauty and experiencing a holiday-like sensation when they look out their window. As well, most major cities (including Vancouver) have developed their liveliest areas around waterfront districts.
The long-standing notion around real estate desirability is summed up in another phrase: "Location, Location, Location!" So if waterfront property is most sought after, why do we need a new waterfront? The emphasis around SkyTrain stations has gained popularity among stakeholders in housing development as they admit that the idea of owning a home close to the water is simply unaffordable for most.
The solution?
Communities being built as central hubs. With over 400,000 people per weekday using the SkyTrain to make trips, it's no wonder why BC's developers have identified SkyTrain stations as the ideal locations for residential development. In the early days of this mass transit system, the goal was to connect municipalities with one another by building SkyTrain stations where residential communities previously existed. With the rapid growth of Metro Vancouver's population, developers are reverse-engineering their plans and building vertical high-rise communities surrounding specific stops.
Going one step further, with Metrotown as a model, builders are recognizing the potential for miniature Downtown-style communities to cater to residents in different cities across Greater Vancouver. The idea behind this is to create regions that feature outdoor amenities, shopping, and entertainment to enable homeowners to lead exciting lifestyles without needing to visit Downtown. The best example of this lies in the centre of North Burnaby. The once aged Brentwood Mall area is being reconstructed into a city centre which will feature over 300 new shops and restaurants, a brand new 13 acre park, outdoor cafés, a bowling alley, a movie theatre, and more.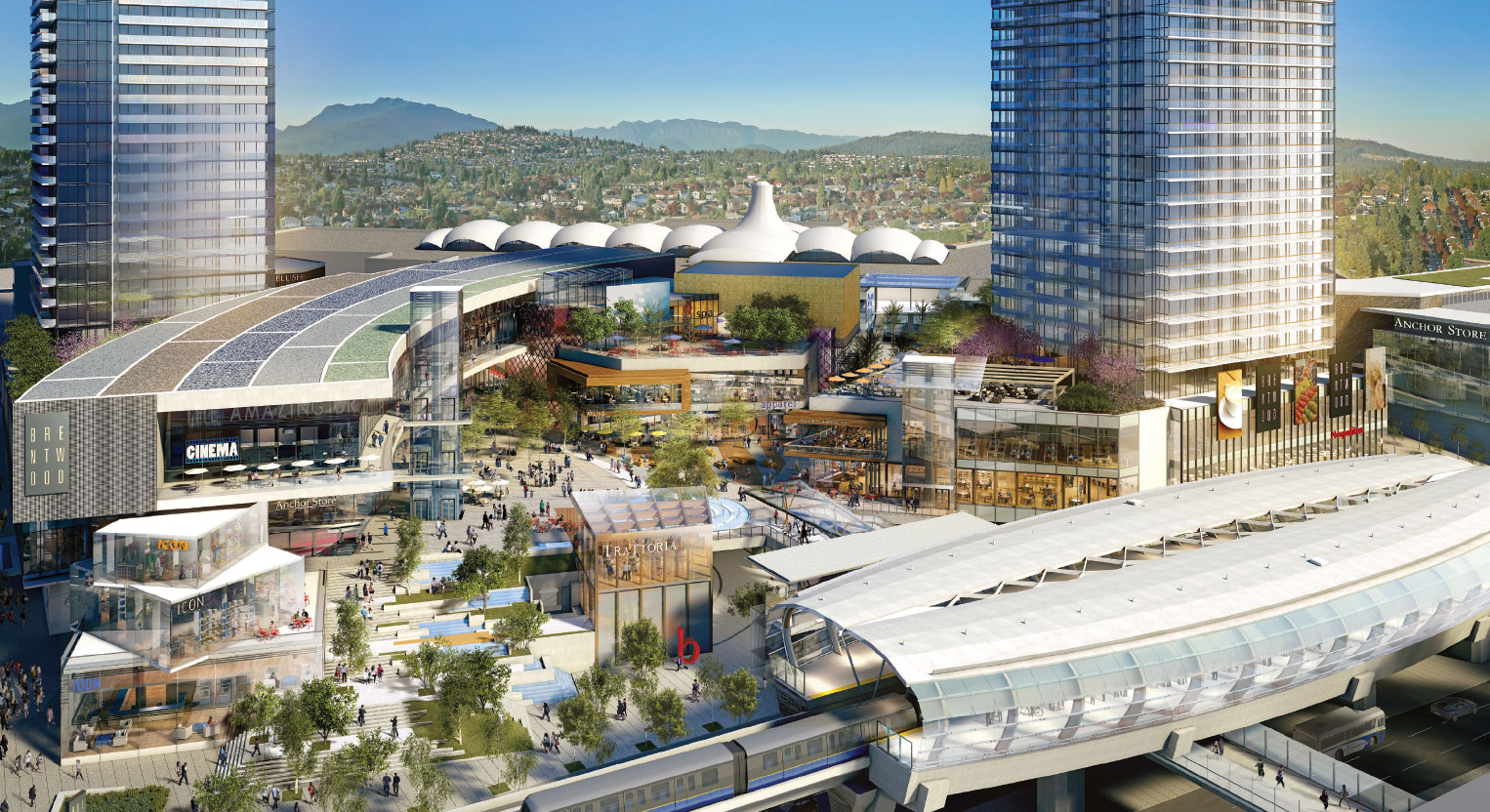 The future of Brentwood Town Centre
Featuring over 300 new shops and restaurants, outdoor cafés, a new bowling alley and movie theatre, and a new 13 acre park.
In addition to access to Downtown, the SkyTrain provides convenient transportation to various major suburban hubs. Within 30 minutes most destinations can be reached, whether it be for work, shopping, visiting family and friends, or exploring attractions of a neighbouring city. With instant access to a station, many buyers are opting for a quieter lifestyle that affords more space while remaining connected to the amenities across the Lower Mainland. As well, this level of accessibility enables home owners to enjoy a car-free lifestyle with the benefit of cutting costs on transportation. With a fast route to get to almost anywhere combined with developing communities that offer reasons to stay local, it's certainly more understandable why the phrase "SkyTrain Stations are the New Waterfront Property" has been so prevalent among the Greater Vancouver real estate community.
Looking to find out more on the many developing communities around Greater Vancouver? Feel free to email me at adil@adilkhimani.com.
All the best,
Adil